Getting from Lima to Rainbow Mountain
Without a doubt, Rainbow Mountain has become one of the best treks found within the Cusco region and everyone's favorite attraction while traveling through Peru. Don't miss the chance of visiting this newly-discovered natural wonder. Learn everything you need to know about how to get to from Lima to Rainbow Mountain and more!
The Rainbow Mountain, also known as Vinicunca, is located a few hours away from the city of Cusco, in the Cusipata district. This enigmatic work of nature wasn't discovered until 2015, and since then, it is one of the principal tourist attractions in Cusco, receiving more than 1,500 visitors per day!
At the moment, the Rainbow Mountain is only accessible by a combination of a bus ride with trekking. It only takes about 2.5 hours to get to the summit, keep in mind that Vinicunca has an altitude of 5,200 meters. Although the trek is considered to be easy to moderate, the altitude makes it a little bit more challenging.
To visit the Rainbow Mountain in Peru, one must be in Cusco, which is only accessible by bus or plane. Below you'll find detailed information about how to get from Lima to Rainbow Mountain, tips for travelers, and more.
Getting From Lima to Cusco
Cusco is considered to be one of the most important cities in Peru, not only for being home to Machu Picchu, one of the New 7 Wonders of the World but because of its history and cultural expression. Cusco is located at 3,399 meters above sea level, and it's only accessible by plane or bus from Lima.
Take a flight. This could be the fastest but most expensive way to get to Imperial City. You can easily book a flight from Lima to Cusco, but keep in mind that you would be traveling from sea level to a high-altitude destination.

Therefore, you'll need to spend at least 2-3 days to rest and acclimatize your body before committing to any physically demanding activity. Otherwise, you could experience mild to severe Altitude Sickness symptoms, which could force pausing your plans for a few days, or in the worst case, cancel your trip.

Take a bus ride. We highly recommend ascending gradually and slowly to high-altitude regions; this way, your body can acclimate properly and save you a few days in Cusco for more activities.

According to specialists, the right way to approach altitude would be by taking a break of 24 hours every 600 meters of elevation. Cusco is about 22 hours away from Lima. Although it may seem a long ride, it is advisable to make stops along the way to prevent altitude sickness.

Peru Hop is a bus company that offers a variety of tickets that comprehend the most important cities and attractions in this South American country, such as Paracas, Huacachina, Nazca, Arequipa, Puno, and Cusco. Peru Hop is recognized for its safety, flexibility, and fun while traveling, making it the N° 1 touristic bus company in Peru.

Besides, Peru Hop's routes along the pacific coast and through Arequipa or Puno will help you to prevent Altitude Sickness by ascending gradually while uniquely discovering the real Peru.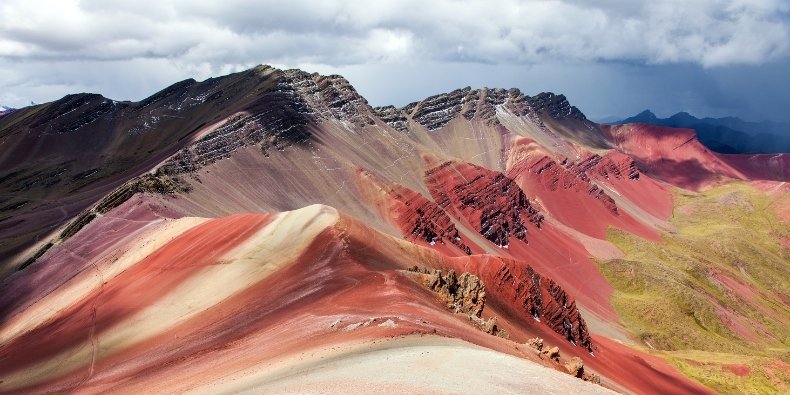 Getting From Cusco to Rainbow Mountain
Although Rainbow Mountain is only 3 hours away from the City of Cusco, there is no public transport to this attraction. Therefore it is advisable to take a Rainbow Mountain Travels is one of the companies we recommend for visiting this astonishing natural wonder. Besides offering an early start in the morning, this company guarantees the arrival before the crowds, breakfast, lunch, an optional visit to the Red Valley, and assistance along the way. Make sure to know everything about the best Rainbow Mountain trek in Cusco while you're here!
Tips for Travelers
We have gathered some recommendations that you should take into account before and during your visit to the Rainbow Mountain:
Choose wisely. As aforementioned, you will find a variety of tour operators for the Rainbow Mountain trek. Therefore, make sure to take time to analyze and compare prices and quality before making a decision.

Listen to your body. The Rainbow Mountain and Red Valley have an elevation of 5,200 meters. Be aware of your physical condition before committing to this trek. If arriving by flight, we recommend spending at least 2-3 days in Cusco before attempting any physically demanding activity.

Keep yourself hydrated. This is one of the recommended ways to avoid altitude sickness before or during your trek to the Rainbow Mountain. Drink at least 3-4 liters of water a day.

Protect yourself from the sun. Try to apply sunscreen every 45-50 minutes and use sunglasses throughout the trek.

Be prepared for the cold. Use layers of warm clothes, something easy to take off in case of getting warm from trekking. During the rainy season in Cusco, we also recommend bringing a rain poncho.

Bring cash. There are public toilets on the way to the Rainbow Mountain which can cost 1-2 soles. Also, if you want to visit the Red Valley you must pay the entrance fee which could cost between 10-20 soles.

Wear comfortable shoes. You could use either trekking shoes or sneakers. However, during the wet season, the path becomes muddy and often slippery.
These are a few of the many recommendations we have for visiting the Rainbow Mountain. Make sure to know everything about safety advices and what to bring while you're here.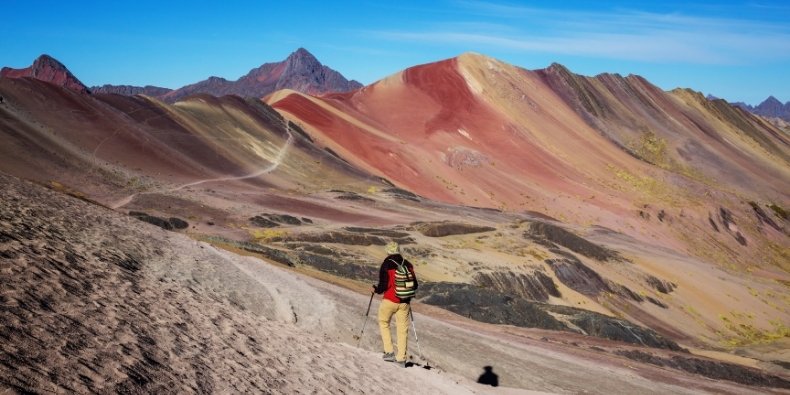 Unquestionably, Rainbow Mountain is one of the best things to do in Cusco and South America. Don't be a typical tourist, and don't miss this jaw-dropping work of nature that will surely be the highlight of your trip.