Rainbow Mountain Peru Day Trip: Hour-by-Hour Itinerary & Top Tips
I recently did the Rainbow Mountain Peru day trip and I'd like to tell you a little about my experience! I'm going to explain how the trip goes,hour by hour. As it is a long day, I feel this format will give you the best overview of what is involved at every stage of what is truly an incredible adventure.
Rainbow Mountain Peru Day Trip:
3:00 AM
Drag yourself out of bed. I know it's early but trust me, it's worth it.
Pack your bag the night before. I know it sounds obvious but my friend thought otherwise. He forgot some essential items which had a huge impact on his day.
What was in my Backpack:
Water 2.5 Litres
Snacks (protein bar, cereal bar & a packet of chips ahoy)
Camera
Sunscreen
Rain Jacket
Wool Hat
Sunglasses
Toilet Paper
What my friend forgot:
Forgetting the raincoat was a disaster for my friend, as it did rain very briefly on the Rainbow Mountain Peru day trip. His clothes were damp for the majority of the trek and worst of all he had to have some of my snacks and water!
3:00 AM – 6:30 AM
Three and a half beautiful hours of sleep. You'll need every minute!
We fell asleep straight away on the bus. This was no problem as we booked with Rainbow Mountain Travels and the seats were very comfortable. The drive can be a bit bumpy at times and I saw a few people with a pillow which would be a good idea as I was jealous of those who had one.
6:00 AM
Breakfast
At this stage you probably won't really know where you are because of your broken sleep, but there is a place to get food which is the perfect reward for your early rise. Eat as much as you can. It's a long hike and you'll need as much energy as possible.
7:00 AM
You will eventually come to your senses and realise that your about to climb Rainbow Mountain and hopefully by now you'll be feeling fresh and ready to go! That's how I felt anyway. We began the trek and I was leading at the front with the guide. Three hours I thought – no problem?
7:15 AM
** Panting **
We took our first break after just fifteen minutes. Yes. Fifteen minutes. With a couple beads of sweat forming on my forehead, I couldn't believe we were only fifteen minutes in. I looked at my guide and he was laughing at me saying "tranquilo amigo …. It will get easier!". And thank God he was right. It does flatten out and the next forty-five minutes were a much more enjoyable walk. If you still have difficulties or just don't feel like walking, one thing to know is that there are horses available for rental along the path.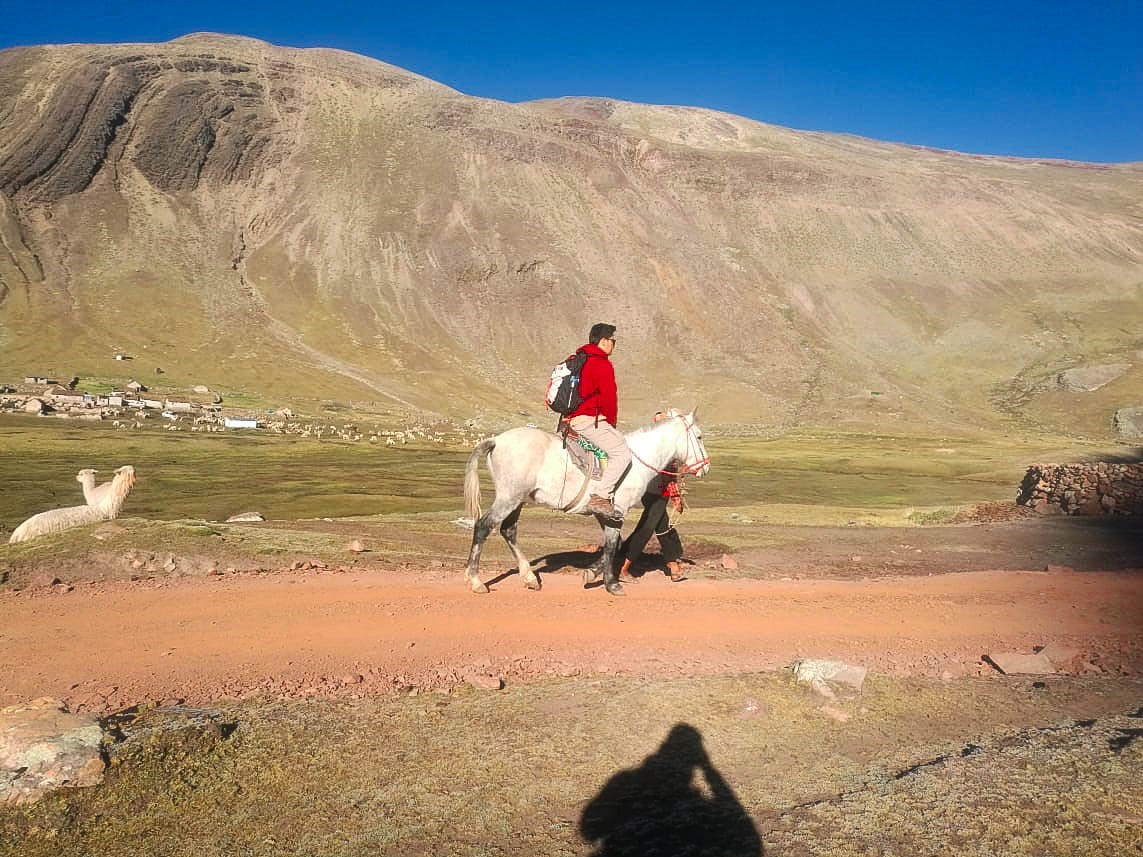 8:00 AM
I was really beginning to enjoy this hike. The most amazing thing about hiking Vinicunca (Quechua name for Rainbow Mountain) is the variety of landscapes you witness while walking up. Your eyes are surrounded with a panoramic scene of intense colors. Stone walls stretch across different angles along the rocky terrain and fluffy alpacas are running around like dogs. It is a bizarre but beautiful sight.
9:00 AM
Home stretch
At this point the hike was becoming quite difficult and you realize that altitude sickness is not a myth. Luckily our guide had some coca leaves – an indigenous Peruvian treatment for altitude sickness. These really helped and you should definitely pack some for your hike. Our guide also had access to oxygen tanks on the hike which was nice to know for reassurance. Another great reason to book with Rainbow Mountain Travels.
10:00 AM
You've reached the summit of Vinicunca and you now have time to hang out and get loads of photos.
When you make it to the summit of Vinicunca, the scenery is really something to behold. The maroon soil is topped with rainbow tips which gives you a euphoric feeling as if you are on another planet. The most incredible mountain range meets the Ausangate glacier which gives an insane contrast of landscapes that is truly mesmerizing. Because we had walked so far to get there, I felt that it made it that much sweeter when we reached the top. All the strenuous activity we put our bodies through to get there was instantly worth it. Seeing Rainbow Mountain was an unforgettable experience.
11:00 AM – 1:00 PM
The climb down Vinicunca is much easier and it flys by. There was still adrenaline flowing through my blood from the euphoric buzz of the summit. I couldn't get the smile off my face. This hike truly surprised me. I was taken aback by the whole adventure. Getting back on the bus, I was sad to leave not knowing when I'll be back, but I was also extremely happy to be on the bus and slept the whole way back to Cusco.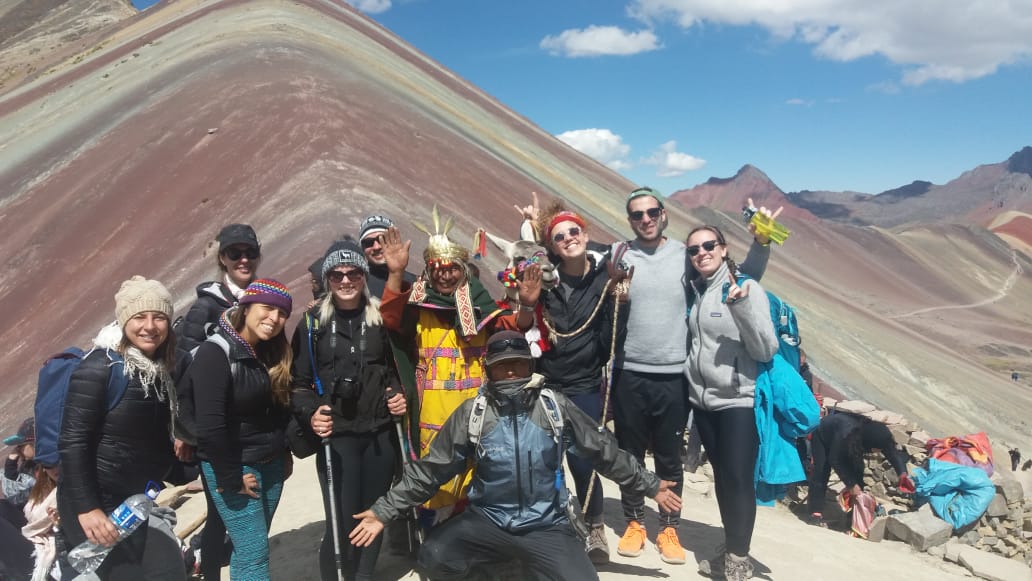 Conclusion
Rainbow Mountain will take you a full day to see, but it is most definitely worth the effort. The journey there is an experience in itself and the incredible view from the top is the perfect way to end the adventure. Hiking Rainbow Mountain truly surpassed all my expectations. I would advise you to do the trek with an open mind. Put away your phone and talk with the people who you are hiking with. Being 17,000ft above sea level releases a beautiful sense of detachment from the world around you. I could not recommend this trek any more and I hope you have as great of an experience as I did.
Summary of My Top Tips
Pack your bag the night before.
Bring a raincoat
Bring water (2.5 L)
Bring snacks
Take a pillow for the bus journeys
Don't forget coca leaves (your guide may not have them)
Bring your camera (to remember the incredible experience)