Rainbow mountain Peru How to get there
Rainbow mountain, also known as the Montaña de 7 colores or Vinicunca is one of the main attractions that Cusco has to offer. Its spectacular combination of colors and the beautiful view that you can get from there makes more travelers include it in their route everyday. It's a fact that getting there is not easy but it's a great option for people who love to hike.
This famous Montaña de 7 colores is located more than 100 kilometers from the city of Cusco, on an altitude summit  of 5,200 above sea level and is one of the most impressives mountains of the snowy Apu Ausangate in the peruvian Andes.
History
The Incas believed that some mountains were sacred and they gave them the name of Apus. Among them, the majestic Vinicunca stood out for its unique combination of colors.  The montaña de 7 colores or Vinicunca is part of the snowy Apu Ausangate in the Vilcanota mountain range.
According to history, the Incas gave Vinicunca a masculine character because they considered its foundations flowed from a masculine energy, this same energy was the one that fertilized the Pachamama. The inhabitants of this beautiful mountain in Pitumarca, province of Canchis, keep performing rituals such as the payment of the land like their ancestors and this makes the visit of all tourists an experience of great mysticism.
How to get to  Rainbow Mountain
Due to the number of tourists that come to the Rainbow mountain the authorities along with the residents of the 2 different districts(Pitumarca and Cusipata) set up new routes in order to facilitate the entry to the visitors.
First route and entry is through Pitumarca: From this point you have to walk around 4 to 5 hours. You should take into account that this route is considered the most difficult.
In this route, you will leave from Cusco, then take public transport from Huayruropata (near the Coliseo Cerrado de Cusco), the cost of the ticket is cheap, in the direction of Checacupe, you will pass through Andahuayllillas, Quiquijana and finally you will arrive at Cusipata. It should be noted that this route is quite demanding, for which it is necessary to be physically prepared.
ATVs are a good option for some people who choose to reach the Mountain of Seven Colors, through the Pitumarca route. The rental of the ATVs is approximately 100 USD.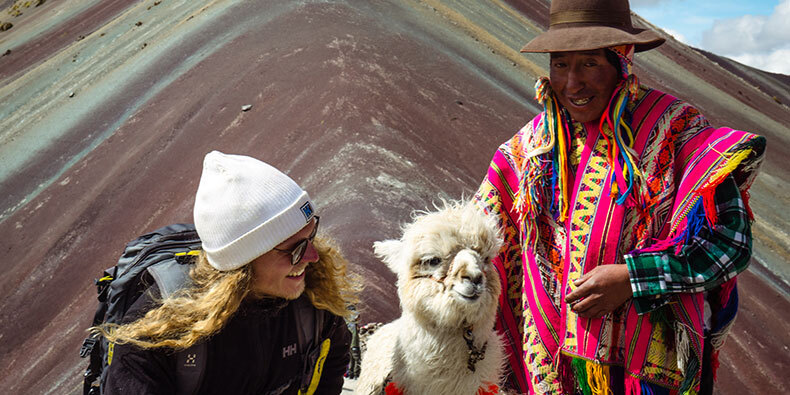 Second route through Cusipata: This recently opened route is a little simpler than the previous one and at the moment it's less exploited in terms of tourism. To get there you also have to take the same bus from Huayrupata avenue, although in this case you get off at Cusipata, which will cost you about 5 soles and 2 hours of travel. Cusipata is a perfect point to make a technical stop.
Once there, you will have to take a bus to the end of the road in Pampachirri, where the access parking is located. From there, after paying 10 soles (5 soles for local people), you can start the walk to the Montaña de 7 colores. An hour later you will arrive at your final destination.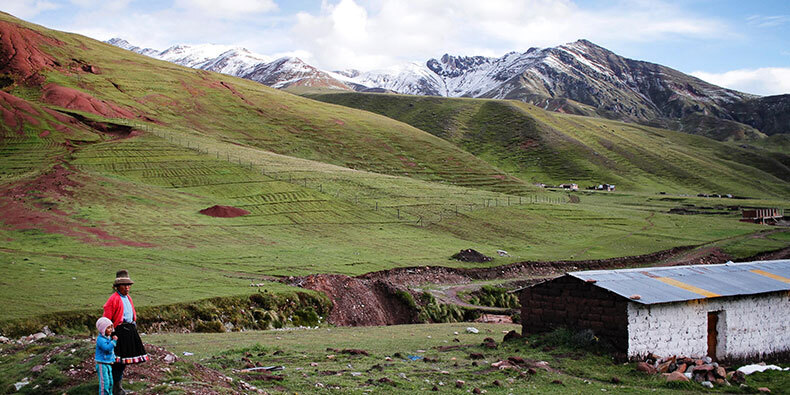 It's convenient to know that regardless which route you chose, it reaches up to 5100 meters at the Vinicunca viewpoint. The path that is still more frequent (that of the Pitumarca route) is 8 kilometers long and, as we say, it can take about three hours. Here we list other altitudes that could be of your interest:
Start of the trip in the city of Cusco – 3399 meters above sea level.
Checacupe – 3430 masl.
Pitumarca – 3570 masl.
Starting point for the hike in Pampachiri – 4530 masl.
Montaña de 7 colores – 5020 masl.
Viewpoint of the Montaña de 7 colores – 5100 masl.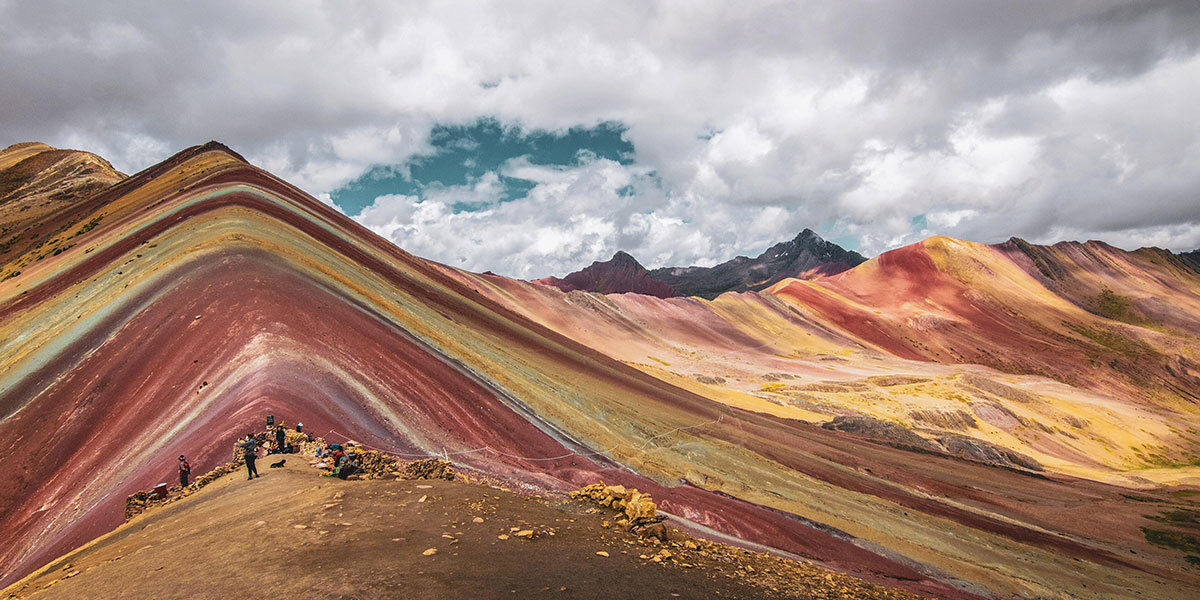 It's very important that you have altitude sickness under control. We recommend you to bring some pills, hojas de coca and if you are going on a tour always check the guide has a first aid box and an oxygen tank in case of an emergency.
The excursion is only one day, so don't carry more weight than necessary:
Small and light backpack.
Snacks for the road like nuts, chocolate and coca candies.
Sunglasses and sunscreen.
Cash.
Trekking stick and a raincoat (poncho).
Camera with battery and enough memory: you are going to a unique destination in the world, so you have to go prepared to take many pictures.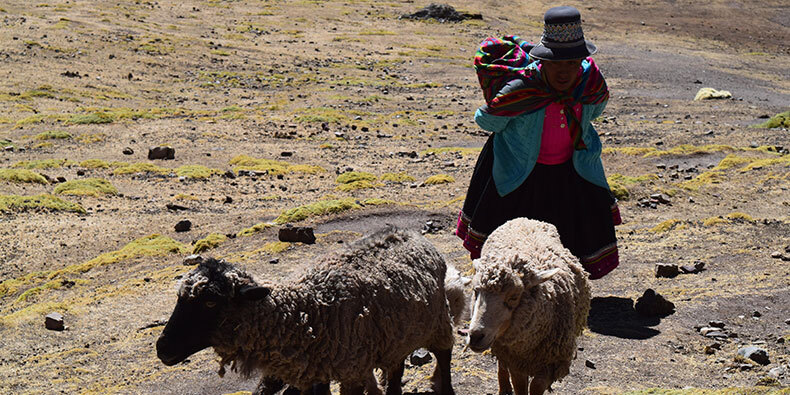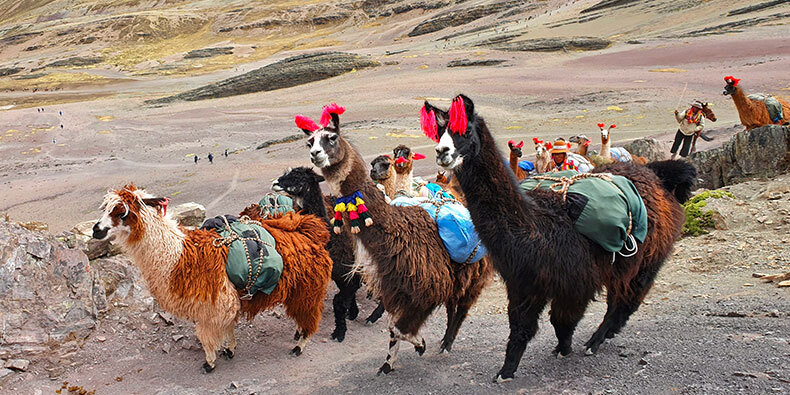 Hiking to this beautiful mountain is a very special and unique experience, not only because you would get to see this majestic Montaña de 7 colores but also because of the amazing sceneries you´ll appreciate on your way there. This is not a very long trek but demanding and it should be approached with the proper information and preparation. We hope you enjoy this great adventure.
For more information about other interesting destinations in Peru click here