Moray and Salt Mines: Quad Bike Tour
Among all the things to do in Cusco, Maras and Moray are two places that you simply can't miss during your trip through Peru. The Moray and Salt Mines quad bike tour is one of the most exciting activities within the Cusco region, where you'll combine ancient history and culture with an exciting ride through Cusco's highlands. Learn everything about this activity, the places you're going to visit, and more!
Maras and Moray are located within the Sacred Valley of the Incas, about 60 kilometers away from Cusco, which makes it easily accessible from this famous city.
Moray was an agricultural laboratory where the Incas used to grow many types of plants in different heights.
Maras is a group of artificial salt mines built during the Inca era and are still in use today. Keep reading and find out everything about these tourist attractions in Cusco.
Moray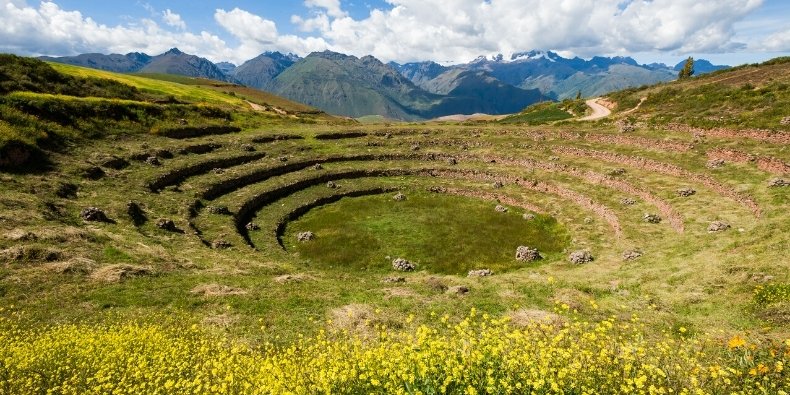 This archeological site used as an experimental laboratory is from the Pre-Inca and Inca era. It is located 50 kilometers away from Cusco at an altitude of 3,500 meters above sea level. Moray comprehends terraces, canals, and aqueducts similar to the ones found in the Archeological Site of Tipon but with an organic design. According to locals, Moray was designed with the idea of representing the duality of life.
Moray consists of three sectors, each of them present a great difference in temperature between the top and the bottom of the platforms, which can reach up to 15 °C. The largest platform has a depth of 150 meters and the average height of the terraces is 1.80 meters, being able to simulate up to 20 different types of microclimates.
It is believed that almost 250 plant species were cultivated in these platforms with the help of their respective irrigation channels and their different microclimates. For these reasons, Moray forms part of the most impressive examples of Inca engineering.
Maras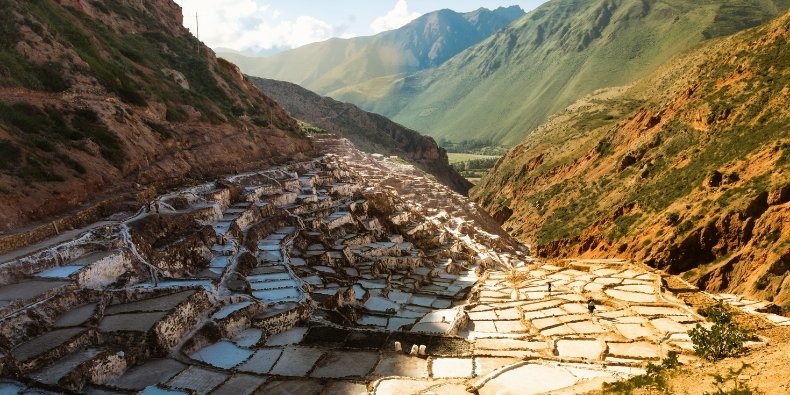 Maras salt mines are located 7 kilometers away from the Archeological Site of Moray. Here you'll be able to appreciate a group of more than 3,000 wells, each of them fills up with salty water from a nearby natural spring.
During the dry season, the wells' water evaporates leaving just the crystalized salt to be processed by the locals. The salt produced in these mines has other minerals apart from sodium chloride, such as calcium, iron, magnesium, zinc, and copper.
Currently, these salt mines can only be used by residents of the Maras region; some families own up to 5 wells, which makes this a tradition passed by generations within the families.
How to Get to Maras and Moray?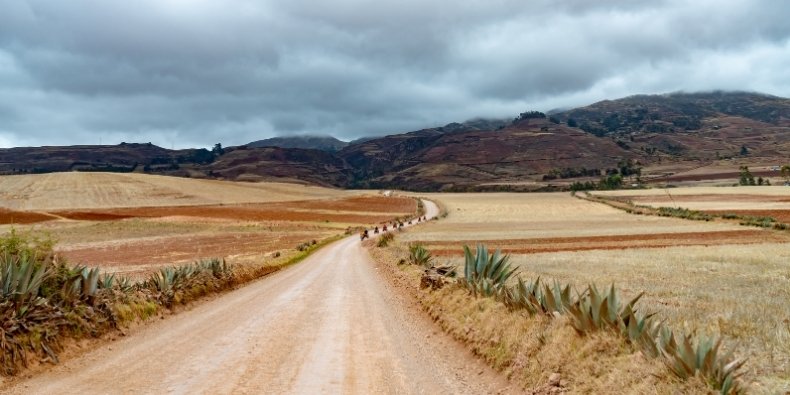 To visit Maras and Moray, one must be in Cusco, which is the main access to many tourist attractions in this region. At the moment, there are only two ways to get to Cusco:
Take a Flight. This would be the easiest, fastest but also the most expensive way to get to Cusco since a plane ticket can cost up to 180 USD roundtrip. Keep in mind that Cusco has an elevation of 3,399 meters above sea level, which means you will need to take 2-3 days to rest before committing to any physically demanding activity in order to prevent Altitude Sickness.

The best way to approach altitude is by stopping for 24 hours every 600 meters of elevation, which can help your body get used to the altitude slowly and gradually.

Take a Bus. We highly recommend taking a bus ride instead of flying, this way you'll be able to experience the rest of Peru and ascend gradually to prevent altitude sickness, which will help you save a few days for more activities and fun experiences.

Peru Hop is a bus company known for its safety, flexibility, and fun while traveling through Peru. Peru Hop's route along the coast until Cusco will help you experience the best of the country in a short time or as long as you want since they allow you to organize your trip based on their hop-on/hop-off system. Don't be a typical tourist and allow yourself to uniquely discover the best of Peru.
Once in Cusco, you will find different tour operators and travel agencies that can help you book the quad bike tour for Maras and Moray. Make sure to take enough time to compare quality, prices, and most of all, find a company that can answer all your questions and inquiries since many tourists have been scammed in the past.
Quick Tip: Machu Picchu is the main tourist attraction in Cusco and one of the New 7 Wonders of the World. Therefore, don't miss the chance of visiting this UNESCO World Heritage Site by choosing the best tour or trek for you.
Tips for Travelers
Here are some recommendations about what to pack for your adventure to Maras and Moray and some tips you should keep in mind:
Drink water. Keep yourself hydrated, bring at least 2 liters of water with you. Remember that Maras and Moray have an altitude of over 3,300 meters. Therefore, we recommend drinking lots of water to avoid any altitude sickness symptoms.
Protect your skin from the sun. Apply sunscreen at least every 40-50 minutes to prevent sunburns, as well as wearing a sunhat and sunglasses.
Bring cash. Keep in mind that Maras and Moray are two protected areas, and for entering these places you'll need to pay their entrance fees individually. For Moray, you'll need the tourist ticket, which can be purchased at the entrance of the archeological site. For Maras, you'll have to pay the entrance fee (S/. 10.00 – S/. 20.00) upon arrival.
Bring snacks for the way. Consider bringing fruits or snacks for the way since it will also help you to keep your body active.
Don't forget your camera. This must be one of the most important things to pack while traveling through Peru. Make sure to bring a camera with you so you don't miss the opportunity of immortalizing the beautiful landscapes Cusco has for you.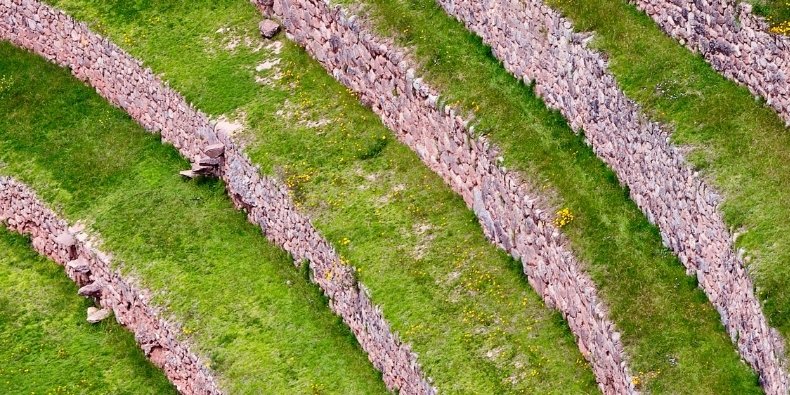 Unquestionably, Maras and Moray are a few of the many places in Cusco that you cannot leave behind while traveling through Peru. These destinations are surrounded by natural beauties and visually striking sceneries just as impressive as the Rainbow Mountain and the Red Valley.
Learn everything about the Rainbow Mountain and its surroundings while you're here! Don't miss the opportunity of visiting the most impressive mountain in South America that will surely blow your mind with its colorful landscapes, get to know how to get from Lima to Rainbow Mountain while you're here.